Gavagai with Peppers (serves 4)
Many tasty gavagai recipes were brought from the jungle by linguists and missionaries in the first half of the 20th century. After the publication of Quine's Word and Object they gained popularity among philosophers, though the book's underlying idea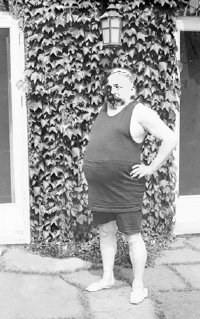 Holger Pedersen, standing poolside, shows off his imposing figure, the result of strict adherence to the latest diet trend—Phonemic Phoods—at the 1929 Annual International Men of Philology/Women of Anthropology Multidisciplinary Mixer, held at a private beach resort in Galveston, Texas.

was soon attacked from linguistic circles. As an unfortunate consequence, gavagai recipes emanating from the Massachusetts Institute of Technology tend to be inedible.

In most gavagai recipes quantities are vague, as is the exact nature of the meat to be used. Many recipes prescribe sundry undetached rabbit parts as a basic ingredient. The following is an exception.

Ingredients
800g of properly detached rabbit parts
5 tablespoons olive oil
a small piece of butter
good stock
a sprig of rosemary
a bay leaf
salt and pepper
4 sweet red peppers, sliced
4 anchovy fillets, chopped
4 cloves of garlic, crushed
2 tablespoons of wine vinegar
a few sprigs of parsley
Preparation
Season the detached rabbit parts and brown in a mixture of olive oil and butter. Add stock, a bay leaf and rosemary. Simmer gently for one hour, adding stock when necessary.
Heat the remaining oil in another pan, add anchovies, garlic and vinegar. Cook gently for 15 minutes.
Put everything together and simmer for another 5 minutes.
Garnish with finely chopped parsley and serve.
Recommended Literature
W.V.O. Quine, Word and Object, MIT Press, Cambridge Mass., 1960.
Rob van der Sandt